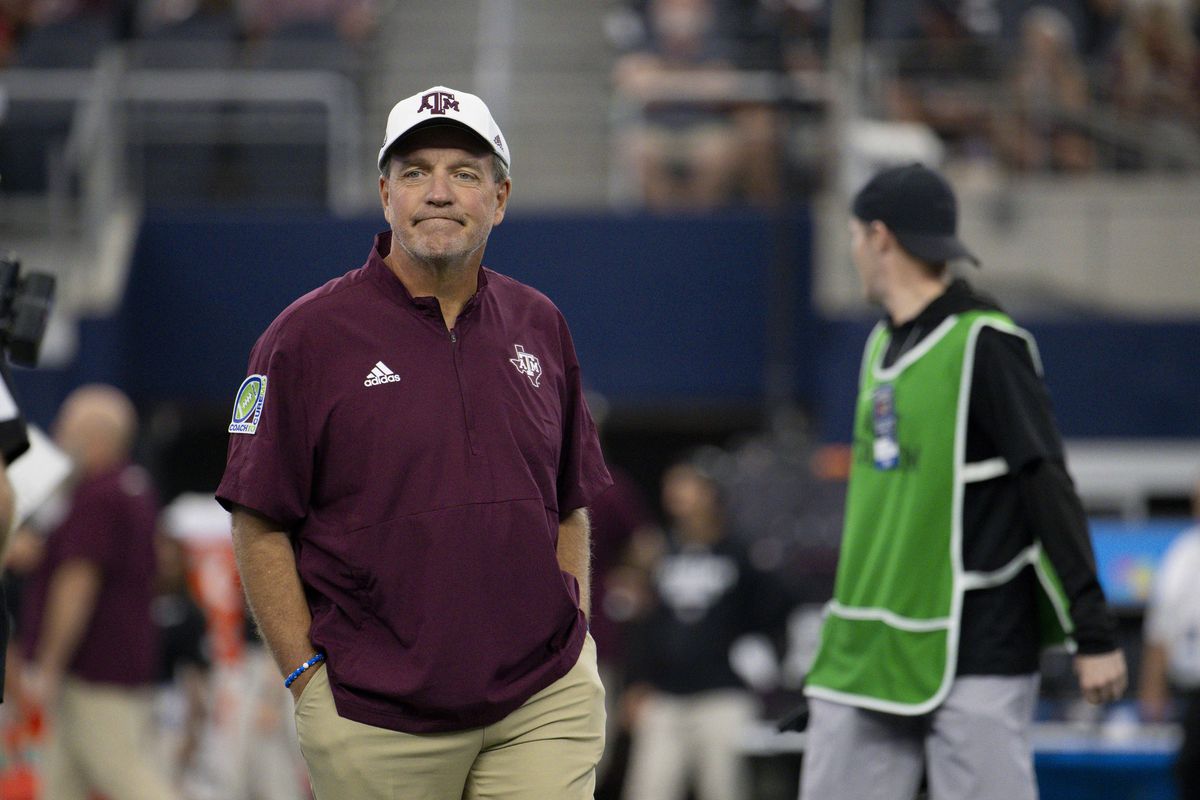 As always, thanks to Robert Behrens from Good Bull Hunting for playing along and answering my questions every year. If you're interested, here are my answers over on their site.
1- Last year, I asked you before the game about just how hot Jimbo Fisher's seat actually was. At the time, you were certain that the buyout 100% prevented that from even being a conversation, at least for 2023 and probably 2024. However, you mentioned that Fisher giving up playcalling duties might be the direction things go... And now Bobby Petrino is here. Basically, I now think you're a savant. What are your thoughts on the Petrino experiment so far?
The Petrino hire has been a rousing success thus far. The Aggies have 400+ yards of offense in all five games (after doing so in only 4 games a year ago). It's also the first time a Jimbo Fisher team has scored 27+ in five straight games since JAMEIS WINSTON IN 2014. The offense just flows in a way it wasn't before.
Safe to say, the critics of that OC hire are eating a lot of crow so far this season.
2- Can Ainias Smith graduate already? I swear he was being annoying and scoring TDs on us like a decade ago at this point. My annual preview of the Aggie offense is just "stop putting slower safeties on Smith going deep". I guess that's not a question... So how has he changed his game over the years? From running back to wide receiver to social security, I'm sure he's added some wiley veteran skills to his game?
Ainias doesn't have elite measurables, but he has a knack for getting open and even more of a knack for breaking tackles/making plays with the bal in his hands. Honestly it's such a joy to watch him play, especially coming back from the injury that cost him most of 2022.
Oddly he's even bulkier now than when he spent time at RB in 2020. He doesn't have game-changing speed, but it seems like he's always due for a game-changing play.
3- Ok, let's talk QB. Last year, I kind of thought we'd wind up seeing Max Johnson... And then that name disappeared from the collective consciousness. Well, now he's back. How's he looking? Is this a guy that can get A&M where they want to go? Or is he just someone that you'll have to survive with until Connor Weigman returns?
I think Weigman has a legit NFL skill set and unreal potential. While I'm not sure max Johnson is that, he also doesn't really limit what this offense can do. He looks very comfortable making his reads and getting the ball to his playmakers. He's also more mobile than you might expect.
Ball security was an issue for Max last week (a pick six and two lost fumbles), but traditionally that hasn't been an issue for him. If he can limit turnovers, I think Max is more than capable of leading this A&M team to big things. After our QB injury travails of recent seasons, having such a competent backup is not something Aggie fans take for granted.
4- Moose Muhammed really impressed me a year ago, but now has only 70 yards through 4 games this season. Is this just an anomaly of the small samples sizes of football, or is he being phased out of the gameplan?
Part of the issue is Moose is a slot receiver, so he plays behind Ainias. A&M seems to prefer Evan Stewart, Noah Thomas and transfer Jahdae Walker on the outside. So that logjam is partially to blame, but I think most of us share your surprise that Moose does not see more snaps. He flashes some elite ability, and it seems like they should find more ways to utilize him. Maybe they've just been hiding him to deploy him against y'all. ;)
5- Texas A&M's defensive stat sheet is absolutely littered with names that I remember hoping would be Alabama commits back when they were recruits. Which guy are you most proud of the Aggies keeping from Alabama, and, on the other side, what Alabama player are you most annoyed didn't go to College Station?
On the A&M side, I have to say DT McKinnley Jackson. He was a recruit out of Mississippi that we both went after heavily, and I remember being somewhat shocked we pulled it off. Fast forward to today, and he's a dominant force on the interior of that A&M DL.
Conversely, I'm still bitter about Eli Holstein. While I can't prove it, I feel like his decommitment in Spring 2022 set in motion what turned out to be just an awful year to be a Texas A&M football fan.
6- Your defense is forcing a lot of negative plays and getting the job done in both the passing and rushing game, but they're averaging 0.6 turnovers per game. What's the root cause here? Personnel, scheme, or random variance? And with all of your life savings on the line, who gets a turnover against Alabama this weekend?
The secondary in particular is still vulnerable for A&M, as Miami showed. I think that's been masked the past few weeks because the front seven has just been an absolute beast. So not a whole lot of INT opportunities have been there. But I think a fumble or two is coming, they cause too much havoc for it not to.
If I'm picking, I say DE Shemar Turner causes it. Dude has been an absolute beast.
7- In your mind (and in the general fan base's hive mind, if it differs), what would constitute a successful season for Texas A&M this year?
I said going in that if we can go 9-3, then win a bowl game to get to 10 wins, that's a success. You'd double your previous year's in total. Obviously anything above that is gravy on top.
8-4 is OK but kind of football purgatory. 7-5, we're taking buyout, I think.
8- Bigger picture, what are your thoughts on the SEC this year? It seems the conference as a whole has lost all of our early non-con games. For Alabama, this is probably our worst offense since 2009, and I'm still fairly confident because the whole conference seems to have taken a step back.
The conference, and the west in particular, feels as wide open as it's been in years, if not decades. It's part of why A&M fans view this weekend's game as so pivotal, because if feels like a golden opportunity to put yourself in the driver's seat. That hasn't happened often for us. While a loss doesn't end your season, win and optimism runs wild.
9- Shoot your shot, who wins the game this weekend?
There have been years where I felt A&M could beat Bama. This is the first year I feel like maybe they SHOULD beat Bama. And for whatever it's worth, a lot of the advanced stats guys seem to agree. While it's ultimately just one game, this could be a statement win for Jimbo Fisher, and put A&M in position to do big things in 2023.
While Bama is definitely capable of winning this game, I just can't help but feel like the Aggies pull this one out at Kyle Field. I'll say A&M 20, Bama 13.